As the weather cools...
When the weather cools the fish start to change some of the habits. Eating streamers or eggs (even though there aren't any in the water) will become common. Nymphs that are red seem to work well as it gets colder. The fish will move into slower water. The fall blue wings (psuedos) will become more prolific. The rafts are gone, but more fishermen will show up. Cold fronts will come through with fishing being really good before the front and slow after the front. We should see some snow soon and the next day will be really hot again. There will be less terrestrials as the frost appears. Most days will be crisp in the morning and comfortable the rest of the day. There will be more orange than at a gators football game. Remember, be prepared for all different types of weather. Bring a softshell and a coat. I love fall. What a great time to be outdoors!!!
The Power of Red and Pink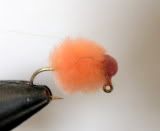 During the month of November and into December red and pink become very important colors to fishermen on the Green. Red, as in midge larva. Pink, as in eggs. Oftimes I will fish these two together, trailing a red midge larva behind an egg. While a red zebra midge works well, I also like red wd40's or simply red wire wrapped around a hook. I will fish midge larva from size 16-22. You could get away with going even bigger or smaller. As for the eggs, I generally fish a gigaglow in pink or apricot. The fish start to key more on the apricot as more roe start to show up in the water. These two colors will catch fish throughout the river and there is no need to fish on the reds to catch fish. I often pass by the reds to see if any big fish are about. The spawn is often a time to see and catch some of the bigger fish in the river. Remember to be respectful to the fish and others especially during spawn time as seems to touch a nerve with people. Best of Luck and we'll see ya out there.
The spawn is late this year.
I suspect a lot of folks who showed up in mid november to fish the spawn were a little surprised. Not until a few days after Thanksgiving did I see a lot of fish on the reds. The spawn is just getting started and fishing should be good for those who brave the cold. There should be lots of eggs in the water before to long. Once there are a lot of eggs in the water there is no need to fish solely on a spawning red to catch fish. Fish all over the river will begin to eat eggs. Good luck and dress warm.