The Power of Red and Pink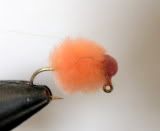 During the month of November and into December red and pink become very important colors to fishermen on the Green. Red, as in midge larva. Pink, as in eggs. Oftimes I will fish these two together, trailing a red midge larva behind an egg. While a red zebra midge works well, I also like red wd40's or simply red wire wrapped around a hook. I will fish midge larva from size 16-22. You could get away with going even bigger or smaller. As for the eggs, I generally fish a gigaglow in pink or apricot. The fish start to key more on the apricot as more roe start to show up in the water. These two colors will catch fish throughout the river and there is no need to fish on the reds to catch fish. I often pass by the reds to see if any big fish are about. The spawn is often a time to see and catch some of the bigger fish in the river. Remember to be respectful to the fish and others especially during spawn time as seems to touch a nerve with people. Best of Luck and we'll see ya out there.
Brown Trout in November
The first thing most people think of about November fly fishing on the Green is big, colorful, aggressive, brown trout. Fall bring a lot of colors to the mountains and brown trout are no exception. Gold, yellow and reds will be vibrant on the fish at this time of year. It was commented yesterday that these are the prettiest browns in the world. I think I would have to agree. Perhaps my favorite way to fly fish is to throw streamers. When the browns are getting ready to spawn they become aggressive and a streamer can be the ticket to catch a ride with one of the bigger browns in the river. Many of the bigger browns will be resting in back eddies before they spawn. You don't want to over look these spots as you are fishing.
The later in November it gets, the more fish you will find on spawning reds. While there are differing opinions on fishing fish while they are on the red I am not going to express mine. The reds can be a easy place to catch fish, especially for a beginner. You can often find big fish on reds especially if you don't spook the fish. Many people walk on the reds or simply right up to a red assuming the fish won't spook while they are spawning. While many of the fish won't spook, I have observed that the bigger fish will spook. Take your time and look for a big one. If you sneek up on a big fish, you might have a shot at catching him. You can even find a few risers in November. There are a few midges out in the mornings and the occasional BWO's in the afternoon. In good terrestrial years such as this one, you can still catch fish during sunny afternoons. This is one of my favorite times of the year. The crowds are gone during the week and there is a better chance to find big fish.