Green River Rainbow Trout Stocking 2011
Electorfishing Performed.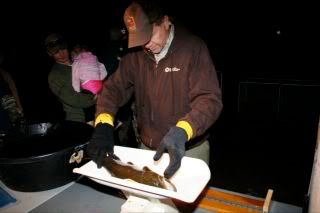 Bi-annually the DWR here in Utah performs electrofishing on the river. The fish shocking occurs in April and September. They check the overall health of the fish, growth rates, and perform pit tagging. This information is used in determining decision made on the river such as flows and stocking. While I was observing a couple of three and four pound fish came through. The overall health looked really good. We appreciate all the hard work the DWR has done to keep this river an amazing place
Hunt, Fish, or Both
Here in Flaming Gorge country it's the time of year when the men of orange show up. No, were not at a Tennessee football game, but there is enough orange to fill the stands. Big game hunting has arrived. We welcome our hunting friends as many of them are flyfishermen and all around outdoor lovers. The archery elk and deer hunts have come and gone with success. Local hunting expert Kevin Clegg is featured here with a large bull shot on the first day of his hunt. While Flaming Gorge is known for great fishing, it has great hunting as well. The Three Corners area north of the river and east of the lake holds some trophy elk, as well as many bucks, and some moose (this is a draw area). Flaming Gorge and the Green River are known for trophies as well. Trophy trout that is. Flaming Gorge holds the state record for Lake trout (51 lbs.), Brown trout (33 lbs.), and Rainbow trout (26 lbs.). The river isn't far behind behind with 25 and 29 lbs Brown's having been caught. Whether your here for the trophy big game, trout, or both, enjoy the outdoors and be safe!!!