Yellow Sallies (isoperla)
If you float the B or C section in late June or first half of July you will most likely run into a bunch of yellow sallies. Sallies are a small yellow stone fly with a tan underbody. Most of the nymphs are tan or light yellow. The isoperla is one of the few stone flies that emerge in open water. Most stone flies swim to the shore before emerging. Generally, I will see the emerges around mid morning and females laying eggs until one or two in the afternoon. When the female lays her eggs she will repeatedly fly 15-20 feet in the air, then nose dive down, hitting the water to lay her eggs. This can be the easier time to catch fish on dries. Even if you are not catching fish on sallies it will get the fish looking up. It's easy to recognize a sally eat by the splashy, aggressive takes by the fish. Often on the C section the fish like the sally skiddered. This can create some spectacular takes.
Some Black Stone Flies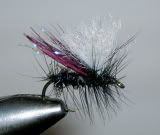 The last few days I have noticed some black stones on the water. They seem to be out for a short time each March. No more than a week or two. They are around a size 10-12. They can be a nice break for the eyeballs after staring at a size 22 midge all day. They can also jump start your heart as the strikes have a tendency to be aggressive. The action isn't fast and furious so I prefer to add a midge dropper while fishing these stones.