An August to Remember
This has to be one of the better August's in recent memory. While the fishing is always good, the catching has been great. Dry flies, nymphs, and even streamers!!! I have caught fish in all sorts of different ways. The most fun has been skiddering caddis at dusk with my brother-in-law Bradley. We didn't catch a lot of big fish, but the fish we caught hit hard with a lot of spirit. The terrestrial fishing has been good to great, with a few days being ridiculously good. A friend of mine pumped a stomach and found five different terrestrials in the fish. I have seen seven or eight different terrestrials on the water. I haven't used nymphs and streamers too often, but they have been very productive to say the least. If your itchin' to catch some great fish on terrestrials, take advantage, the dries are still fishin' good.
Fishing at Sunset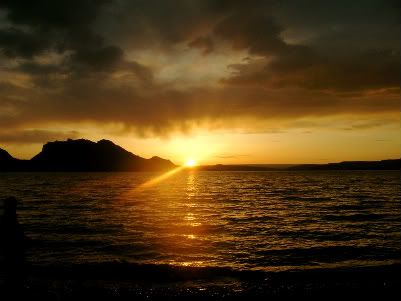 Fishing at sunset can be a great time to fish. Caddis, terrestrials, and mice can be a fun way to end the day. The bigger fish emerge during the low light and just might give you a chance to catch the big one.